HING FUAT FURNITURE (M) SDN BHD
TAMAN PERLING
61-75, Jalan Rawa,
Taman Perling,
81200 Johor Bahru,
Johor, Malaysia.
Tel: +607-2411777
Fax: +607-2411215
Email: hingfuat@gmail.com
INDAHPURA, KULAI
21-27, Jalan Kenanga 29/1,
Taman Indahpura,
81000 Kulai Jaya, Johor.
Tel: +607-663 3800, +607-66 37367
Email: hingfuat@yahoo.com
MUTIARA RINI
4-10, Jalan Utama 45,
Mutiara Rini Square,
81300 Skudai, Johor.
Tel: +607-554 7800
Arabica
Quantity
Add Quotation
Maximum Comfort & Performance
The Arabica Mattress is a combination of independent pocket springs and a luxurious layer of latex for added comfort and pressure relief. This mattress cover is treated with Coffee Charcoal Technology. It is fast drying, and enables UV Protection. It is an environmentally friendly fabric with odor control abilities.
With naturally breathable and thermal control properties, the Arabica mattress gives an overall supported feel for a heavenly night's sleep.
Product Features:
Product Specification
Maximum Comfort & Performance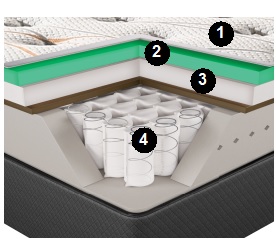 1. Coffee Charcoal Cover
Provide excellent odor control, UV protection and fast drying benefits.
2.
High Resilient Foam
Its unique balance of soft comfort with proper support for your spine.
3. Natural Latex
High resilience comfort foam provides additional contouring support.
4. Independent Pocket Spring
To provide core support, support the body weight, uniform stress, keep the spine physiological balance.